Inline Linear Actuator 85261 / 85262
The Motion 85261/85262 Linear Actuator is designed for those applications where the mounting envelope dictates that the motor is to be in line with the ball screw.
Motor speed reduction is through a two stage spur gear arrangement with a 10:1 or 20:1 ratio. Generally the 85261/85262 series is recommended for loads up to 500 lbs. The high efficiency .653 diameter Epicyclic Ball Screw with integral freewheeling at stroke ends to eliminate limit switches. The 85261 uses a translating tube for mounting, while the 85262 is an open screw unit where attachment is made directly to the ball nut.
---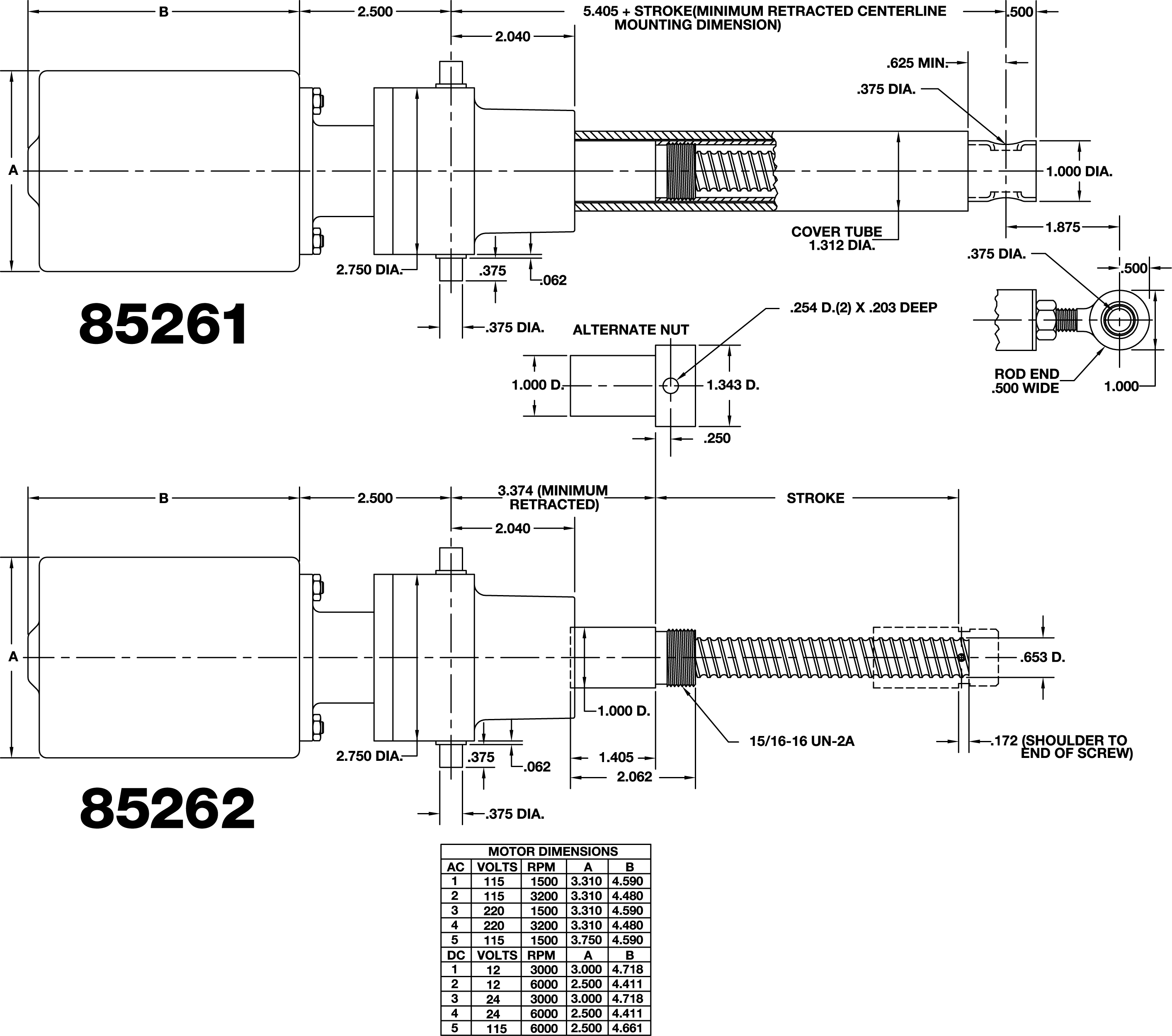 ---

Technical Data Inline Actuator 85261/85262

LOAD CAPACITY

500 lbs. (dynamic)
1000 lbs. (static)
Note: 500 lb. load rating can be extended in certain
applications.

---

STROKE

Any stroke may be specified up to 30".
Available in inches or millimeters with no limitation on interim dimensions.

---

STROKE SPEED

AC Motors:

Gear Ratio
115, 220 VAC 1500 RPM
115, 220 VAC 3200 RPM

| | |
| --- | --- |
| 10:1 | 20:1 |
| .55/.45 | 27/.25 |
| 1.10/.90 | .55/.50 |

---

DC Motors:

Gear Ratio
12, 24 VDC (PM) 3000 RPM
12, 24 VDC (PM) 6000 RPM
115 VDC (PM) 6000 RPM
Note: Stroke speeds are in./sec with no load speed shown first and 500 lb. load speed shown second.

| | |
| --- | --- |
| 10:1 | 20:1 |
| .90/.70 | .45/.35 |
| 1.80/1.35 | .90/.65 |
| 1.80/1.35 | .90/.65 |

---

GEAR
RATIOS

10:1, 20:1

---

MOTORS

AC Motors:

1) 115 VAC 60/50 Hz., Permanent Split Capacitor Induction, 3.3 diameter, 1500 RPM, intermittent duty cycle (25%), 3 wire, enclosed construction, automatic reset thermal overload protector, UL, CSA recognized, 1.6 amps no load, 1.7 amps at 500 lbs., 18 MFD electrolytic capacitor supplied.

2) 115 VAC 60/50 Hz., Permanent Split Capacitor Induction, 3.3 diameter, 3200 RPM, intermittent duty cycle (25%), 3 wire, enclosed construction, automatic reset thermal overload protector, UL, CSA recognized, 1.3 amps no load, 1.9 amps at 500 lbs., 30 MFD electrolytic capacitor supplied.

3) 220 VAC 60/50 Hz., Permanent Split Capacitor Induction, 3.3 diameter, 1500 RPM, intermittent duty cycle (25%), 3 wire, enclosed construction, automatic reset thermal overload


protector, UL, CSA recognized, 1.0 amps no load, 1.1 amps at 500 lbs., 6 MFD oil filled capacitor supplied.

4) 220 VAC 60/50 Hz., Permanent Split Capacitor Induction, 3.3 diameter, 3200 RPM, intermittent duty cycle (25%), 3 wire, enclosed construction, automatic reset thermal overload protector, UL, CSA recognized, .9 amps no load, 1.3 amps at 500 lbs., 10 MFD oil filled capacitor supplied.

5) 115 VAC 60/50 Hz., Permanent Split Capacitor Induction, 3.8 diameter, 1500 RPM, continuous duty, 3 wire, enclosed construction, automatic reset thermal overload protector, UL, CSA recognized, .6 amps no load, .8 amps at 200 lbs., 10 MFD oil filled capacitor supplied.

---

MOTORS

DC Motors:

1) 12 VDC Permanent Magnet Brush, 3.0 diameter, 3000 RPM (no load), intermittent duty cycle (60%), 2 wire, enclosed construction, 2 amps no load, 14 amps at 500 lbs.

2) 12 VDC Permanent Magnet Brush, 2.5 diameter, 6000 RPM (no load), intermittent duty cycle (60%), 2 wire, enclosed construction, 6 amps no load, 24 amps at 500 lbs.

3) 24 VDC Permanent Magnet Brush, 3.0 diameter, 3000 RPM (no load), intermittent duty cycle (60%), 2 wire, enclosed construction, 6 amps no load, 24 amps at 500 lbs.


4) 24 VDC Permanent Magnet Brush, 2.5 diameter, 6000 RPM (no load), intermittent duty cycle (60%), 2 wire, enclosed construction, 3 amps no load, 12 amps at 500 lbs.

5) 115 VDC Permanent Magnet Brush, 2.5 diameter, 6000 RPM (no load on rectified 115 VAC), intermittent duty cycle (60%), 2 wire, enclosed construction, 1.1 amps no load, 2.5 amps at 500 lbs.

---

BALL DRIVE

Epicyclic Ball Screw with integral freewheeling at ends of stroke. Screw OD: .653

Screw root die: .562

Advancement/rev.: .187

Centerline pin dimension: 1.562 + stroke

Nut OD: 1.000
Nut mounting: 15/16-16 thread.

Materials: heat treated alloy steel with bearing races.

Efficiency: 90%

---

GEAR REDUCER

Two state spur gear type with 6302 ball bearing to accommodate ball screw thrust.

Housing: die cast aluminum alloy.

Bearings: Ball Drive shaft supported on sleeve bearings and ball bearing. Other shafts supported on sleeve bearings.
Gear materials: steel.

Motor coupling: 70 durometer neoprene with two heat treated steel inserts.

Lubrication: permanently lubricated with synthetic grease. Special lubricants are available for extrem applications such as low temperature.

---

WEIGHT

85261: 7.6 lbs. (6 in. stroke with AC motor) 6.9 lbs. (6 in. stoke with DC motor – 3.0 dia. PM)
85262: 7.2 lbs. (6 in. stroke with AC motor) 6.5 lbs. (6 in. stroke with DC motor – 3.0 dia. PM)