About Us
Since 1972,
Motion Systems Corporation has manufactured the industry's largest selection of Electromechanical Linear Actuators. They are equipped with high efficiency Epicyclic (Planetary) Ball Screws which provide long life and also a unique integral freewheeling feature at stroke ends. All units are manufactured in the USA.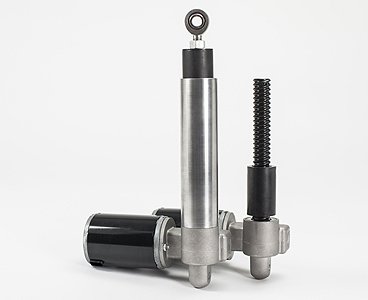 Some applications include: Medical such as; Operating Equipment, Imaging Equipment, Procedural Chairs and Tables, Traction Devices, Equipment Stands, Hospital Beds, Dental Chairs. Mobility Aids such as; Wheelchairs, Scooters, Beds, Stand-Up Chairs, Wheelchair Lifts, Vehicle Ramps, Seat Lifts, Adjustable Furniture, Van Door Openers, Van Shifters and Brakes, Wheelchair Clamp Downs, Stair Climbers. Industrial such as; Robotics, Simulators, Test Equipment, Air Handling Equipment, Compressors, Valve Operators, Remote Operation of Switch Gear, Engine Throttling, Hydraulic and Pneumatic Valving, Material Handling, Web Guides, Machine Loading and Adjusting, Automated Flame Cutting.
Commercial such as; Computer Workstations, Ergonomic Workstations, Drafting Tables, Speaker Lecturns, Animation for Displays, Theater and Motion Picture Production, Gate Openers, RV Equipment, Firefighting Equipment, Estate Maintenance, ATV Dumps and Plows, Sharpening Machines, Recreation and Sporting Equipment, Recycling Equipment. Marine such as; Outboard Motor Lifts, Trim Tabs, Hatch Lifts, Window Openers, Fighting Chairs. Military such as; Robotics, Autonomous Vehicles, Deployment Hooks, Tank Targets, Armored Vehicle Window Lifts and Dead Bolts, Array Adjusters. Consumer Goods such as; Exercise Equipment, Entertainment Systems, Furniture and Television Lifts.